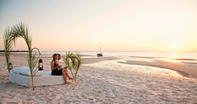 Enjoy the romance of a wonderful island holiday, without the inconvenience of actually being deserted. This selection of romantic Mozambique Island Vacation Resorts has everything that escaping lovers could wish for in a holiday.
Tantalizing Honeymoon Retreats
Privacy, hot sun, blue skies and endless beaches. Excellent sea-food and balmy tropical evenings. Luxury accommodation in exotic settings... Be seduced by these Island Vacation Packages.
Here is a selection of beach lodges and island resorts that offer romantic accommodation in Mozambique

Anantara Bazaruto Island Resort and Spa
offers the quintessential Bazaruto Island holiday. Activities include dune boarding, diving, snorkelling, island tours, horse riding, spa treatments, kayaking and dhow sunset cruises. Accommodation is a choice of suites or beach chalets.

Your luxury and romantic beach chalet on
Benguerra Island
has all the creature comforts one can expect from a top resort plus superb views, watersports and romantic private dining area.

Located on the remote
Medjumbe Island in the Quirimbas Archipelago
. Stay in a private thatched chalet with en-suite bathroom and outdoor shower. Beautifully furnished and equipped with air-conditioning, private plunge pool, outdoor hammock and sun deck. Romantic couple required.

This Mozambique package offers a hideaway which is set in an acacia forest, surrounded by pristine beaches. Enjoy a romantic setting and exquisite
Benguerra Lodge
accommodation, a wide range of activities and unforgettable cuisine - all in a breathtaking Mozambique island location.

Located on
Bazaruto Island
. The beachfront honeymoon chalet is only 20 metres from the ocean and separated from the other rooms and suites. Luxury is understated, yet elegant. En-suite bathroom, mosquito screens, mini bar, satellite TV plus a lounge area and private plunge pool and Spa.