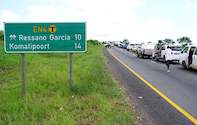 When it comes to border crossings in Africa, it helps to have your wits about you. These are some basic guidelines to help make crossing the Lebombo/Ressano Garcia Border Post (also called the Komatipoort Border) go smoothly.
Navigating borders in Africa can be a stressful experience, especially if you are un-prepared to face the bureaucracy. The most important thing is to have all your papers in order. Here is a quick survival guide of tips to help things go easier when crossing the Lebombo/Ressano Garcia Border Post and travelling into Mozambique.
PLEASE NOTE: Border rules are constantly changing - this is a rough guideline - please speak to one of our Destination Specialists for the latest information.
Stock Up at the Komati Oasis
It is a good idea to stop off at the Komati Oasis situated on the N4 approximately 1,4 kilometres before the border. This is a good place to fill up on fuel and grab supplies for the road. There is a small supermarket, ATM and a Bureau de Change where you can get Meticais - (the local currency).
The Bureau de Change is open from 08:30 - 3:30 during the week. You can also pay a small fee to use a clean toilet rather than use the facilities at the border.
Insurance - Have you remembered to get third party insurance?
If not then you can get insurance at the Global Alliance kiosk. You can also purchase insurance online at www.askari.co.za
Make sure that all your paperwork is in order and have a working pen handy.
Once you arrive at the Lebombo/Ressano Garcia Border Post
The border post is busiest over weekends and Christmas and Easter and if you are travelling at these times, it pays to be patient. If you are self-catering, remember that you are only allowed to take goods of a certain value into the country (Check with one of our Destination Specialists what the latest regulations are).
You may have to produce your till slips to prove the value of the goods so have them handy. However, Mozambique has fantastic fresh produce, so do not take to many provisions; rather enjoy the famous local cuisine.
The South African Side
As you enter the border post you will be given a gate pass.
Once inside the customs building you will need to fill in the paperwork, including a Temporary Export Permit for the vehicle.
You will have to declare any valuables worth over R3000, such as laptops, iPads and Cameras. The lower you can realistically declare them at, the less likely you are to have hassles.
Check that the form is stamped and keep it in a safe place as you will need to show it upon your re-entry into South Africa.
Next you will have to complete immigration, so have your passport handy.
Then go back to your car and as you drive through to Mozambique you will have to give your gate pass to the guard.
The Mozambican Side
On the other side of the border you will be stopped by a guard and given another gate pass.
Take some Rand in small denominations in with you and your passports.
You will need to fill in a temporary vehicle import form.
Each person in the vehicle will need to fill in an immigration form and have their passport stamped at the immigration counter
You will each have to pay a nominal processing fee
Then your vehicle will be checked by a customs official. Have your South African declaration form handy.
You will need to pay the vehicle tax before leaving and handing your vehicle pass to the guard.
Read more Self-drive tips for a safe holiday when driving in Mozambique.