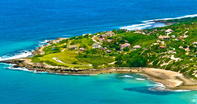 Inhambane in Mozambique is an attractive city, steeped in history and surrounded by coconut palms and magnificent beaches.
See accommodation along the Inhambane Coastline including Barra and Tofo.
Inhambane (pronounced 'Inyambaan')
The architecture and atmosphere reflect a diverse and exciting past stretching back to the 11th century. Muslim and Persian traders visited here as did Vasco da Gama in the late 1500s. The port of Inhambane also later became a major centre for ivory and slave trade as well as whaling. This area is now one of the few in southern Mozambique where the last remaining Dugong can be seen.
This Mozambique city is about 469km (291 miles) from Maputo and today, visitors will find a busy centre with an airport and harbour as well as banks, petrol stations, shops, markets and sidewalk cafés. Inhambane is situated on a bay and visitors can enjoy a drink at the harbour and watch the dhows (local sailing boats) sail back and forth to Maxixe (pronounced "Masheesh").
It is the main centre for stunning resorts and beaches nearby such as Tofo and Barra. The dry winter months in southern Mozambique, lasting from April to October, are good times to visit when the temperatures are milder.
Fabulous beaches near Inhambane
Tofo in Mozambique has superb diving and surfing available with PADI centres supplying regular dive trips - see Manta Rays regularly and Whale Sharks in season. Fishing is also popular or visitors can just relax on the beaches and at the restaurants or try a variety of exciting watersports.
The Barra Peninsula is great for honeymooners and for a family holiday in Mozambique. It offers wonderful beaches on one side and an estuary on the other. Great diving, snorkelling, watersports and fishing to be found here.
The Linga Linga Peninsula, for a relaxing escape, has an estuary and beaches, watersports and fishing available although it is only accessible by boat or 4x4 transfers. There are many popular watersport, dive and holiday resorts in Mozambique accessible by 4x4 vehicles or transfers.
Day Trips and Excursions
4x4 enthusiasts can head north along the coast over the Tropic of Capricorn to explore beautiful Pomene Bay and its mangroves. It boasts dune forests and marine life. Strikeout west for Banhine National Park in Mozambique (a totally undeveloped area with 2 of the Big Five) and Limpopo National Park (Big Five) near Massingir Dam.
Local Lingo
Bitonga is only spoken around Inhambane area and has about 200 000 speakers. Practice these useful phrases:
Thank you - Nhibongile (knee-bong-eela)
Good Morning - Nugodio (hoo-gee-dee)
Good Afternoon - Mihani (Mee-haani)
Good Evening - Wadsigo (waad-see-go)
How are you - Whuhadi ( Hoo-waadi)
Beach - Phwani (pwa-aani)
Sell - Rengisi (ren geesa)
Money - Tsapawu (za-pow-oo)
How Much ? - Kharini (ca-ree-nee)
Stay in Inhambane