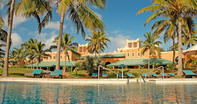 For the ultimate Mozambique diving holiday, get to Pemba before the crowds do. Commonly known as the gateway to the Quirimbas Archipelago and Quirimbas National Park, this small colonial beach town is well on its way to becoming a travel hotspot, especially for avid divers and water sports enthusiasts.
Pemba the Gateway to the Quirimbas Archipelago
There are daily flights from South Africa departing from Johannesburg as well as Dar es Salaam in Tanzania or Nairobi in Kenya. These connections make for incredible Kruger or East African safari and beach combinations. Pemba is also the Gateway to the Quirimbas Archipelago, where a local boat and helicopter transfers take you to the islands.
One can easily spend a few days here in Pemba before moving on to one of the gleaming Quirimbas Archipelago Islands for the ultimate Mozambique holiday. Pemba Bay is one of the deepest natural bays in the world, and the surrounding landscape is characterised by barefoot beach lodges and lush forests of Baobab trees growing right down to the shoreline.
When it comes to Pemba accommodation and restaurants, the most popular beaches by far are Wimbe and Farol. Dhow safaris are also an absolute must and will reward you with a unique adventure through the bay and far beyond.
Although Pemba is known as Mozambique's 'papaya paradise', it has all the modern amenities you could need, such as airports, shops, banks, cafes and restaurants and of course, bars. Head to the centre of Pemba to browse the local market, mingle with the locals and pick up some arts and crafts made with love by the Makonde people.
Best Time to Visit the Quirimbas
The best time to visit is during Mozambique's dry season, which runs from May to November. It is not as hot and humid. Expect the opposite from December to April, some with irregular but heavy rainfall and monsoon winds.
Diving and Fishing in Pemba
Pemba coral reef is located close to the shore, which makes it perfect for diving enthusiasts seeking to catch a glimpse of the myriad of fish species and unique creatures of the deep. If you're keen on heading underwater, read up on our guide to diving in the Quirimbas Archipelago.
While snorkelers explore the surrounding sheets of the colourful reef, those interested in a spot of fishing in the Quirimbas Archipelago from Pemba will also be rewarded with a good game. Prolific watersports abound in Pemba and make for excellent day trips by boat or plane.
Where to Stay in and around Pemba
As for our recommendation on the best place to stay in Pemba? Go for our favourites Diamonds Mequfi Beach and Avani Pemba Beach Hotel & Spa, or get in touch and we can create your full Mozambique holiday starting from scratch.