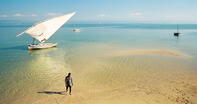 Stay on Ibo Island. A stunning, remote island off the Mozambique coast, which has remained untouched by commercial developments. The lodge is a truly romantic island getaway, and a place that you will cherish long after your return home.
Location
Ibo Island is one of 27 islands that from the renowned Quirimbas Archipelago. It is located off of the northern Mozambique coastline near the town of Pemba. It is renowned for its stunning scenery and world-class diving.
Visit Ibo Island
Stay at Ibo Island Lodge in the Quirimbas Archipelago that comprises of three 150-year old mansions that have been restored to offer you luxury among scented gardens and swaying palm trees on the sun-drenched Ibo Island.
If it's adventure you are after, an 8-day Ibo Island Hopping Tour is a must. Under the expert leadership of an experienced guide, explore the coastline of fringed tropical islands. Go sailing, sea kayaking, diving and snorkelling in the turquoise sea. Enjoy seafood dinner around an open fire and sleep under the island stars.
History and Secrets
Ibo Island has a long and interesting history. Ibo Island was a centre for the slave and ivory trade, and was considered to be an important trading post on the East African coastline for 500 years. Remnants of the Arabs and Portuguese influence can be seen in the local architecture, particularly the old Catholic Church, three forts, and many trading posts.
These ruins are from the 1500's and still harbour many secrets. Visitors can go on tours of the islands and the locals can tell many stories about the pirates, slaves, gold, Ivory and intrigues of days gone by.
It is not just its interesting history that makes Ibo Island a wonderful tourist destination. The island is one of the most pristine beach destinations in the world. The island falls within the Quirimbas National Park which has some of the most un-spoilt reefs in the World.
Divers can enjoy some of the best diving in the world. Turtles, Dolphins, Whales are often seen on dives. The Park is also a sanctuary for the rare Dugong. The Island also has a diverse and varied birdlife.
Quirimbas National Park
The Quirimbas National Park was declared in June 2002. In an unusual move, the park was created at the request of the local communities and stakeholders. They now work together to protect the region. This is founded on the understanding that conservation is only effective when it involves the local communities.
The park is home to rich marine life and is one of the last refuges of the endangered Dugong. Several species of turtles and three species of Dolphins occur in the park. The main goal of the Quirimbas National Park is to protect the regions great ecological diversity so that they can be used productively by both present and future generations.
Tourism is of great benefit to the region, but can also damage this fragile eco-system and thus is managed carefully.