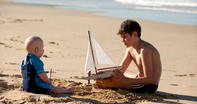 Bring the kids and enjoy a fantastic Mozambique family holiday.
This is the perfect family-friendly holiday destination. Children can play on the beach and enjoy water sports and activities, while adults can get some rest and relaxation. Introduce your family to different cultures and wildlife, learn about nature and bond with each other while enjoying all the beauty and adventure that a Mozambique holiday has to offer.
Family Holiday Accommodation
Many hotels, lodges and resorts in Mozambique are child friendly - check with your Destination Specialist for the best Child-friendly Mozambique accommodation.
Many of the lodges have child minding facilities, trained care givers and guides so parents can enjoy themselves with the knowledge that their children are being taken care of.
Family Holiday Packages
There are a wide variety of exciting packages to Mozambique to suit all your family needs. Allow your family to enjoy the magic of this island in a unique and safe way by being part of these exciting tours.
Create Your Own Family Adventure
Can't find the perfect package for your family? Let our Mozambique Destination Specialists assist you in creating a tailor made holiday just for you! Fill in the enquiry form below.