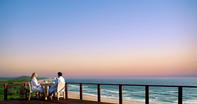 The quaint village of Ponta D'Ouro in Mozambique is a short distance from the South African border at Kosi Bay (KwaZulu-Natal) and is a popular Mozambique beach and holiday destination.
Ponta D'Ouro, Ponta Mamoli and Santa Maria Peninsula
Other favourite spots in Ponta D'Ouro include Ponta Mamoli and Ponta Malongane. Visitors driving down from Mozambique's capital city Maputo can stop at the Maputo Elephant Reserve to stretch their legs and enjoy the scenery or a game drive.
The coast in southern Mozambique is known as a diving and surfing hot spot as well as the place to be for swimming with dolphins and even whale sharks. In the summer months generally from October to December, turtles come onto the beach to lay their eggs, and in the winter whale watching is a popular attraction.
Driving on the beach in this area in Mozambique is not permitted but there are exciting 4x4 trails through the dune forest. Those interested in surf fishing can bring in barracuda, kingfish and bream.
Ponta D'Ouro has a picturesque setting surrounded by casuarinas trees, sand dunes and the sea. There is a wide variety of accommodation available, some lively restaurants and a few shops although no banking facilities - visitors to this Mozambique village are advised to bring sufficient cash for the duration of their holiday as only one or two places have credit card facilities.
The most popular time for travel to southern Mozambique is from April to September when the rainfall is low and the temperatures are milder. Access to Ponta D'Ouro is best via the Kosi Bay border of South Africa which is open from 8 am to 5 pm daily (arrival before 4:30 is advised).
Most resorts in this Mozambique area will arrange 4x4 transfers from the border for guests driving to Kosi Bay in regular vehicles and there is a safe parking area at the police station available for a daily fee.
The transfer to Ponta takes about 35 minutes. Drivers with 4x4 vehicles need a high clearance model preferably with a diff lock to travel in southern Mozambique.
Visitors driving from Johannesburg to Kosi Bay will travel via Ermelo, Jozini, Kwangwanase (Manguzi) to Kosi Bay border (minimum 7-hour drive)
Drivers from Durban will travel north to Hluhluwe, Mbazwane, Kwangwanase (Manguzi) to the Kosi Bay border (minimum 5-hour drive)
Visitors driving from Johannesburg via Komatipoort and the Ressano border or from Swaziland via the Lomahasha / Namaacha border post can travel via Boane on an adventurous route to Bella Vista, or go through Maputo and then onto to Bella Vista.