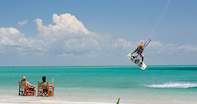 Vilanculos accommodation in Mozambique offers long pristine beaches and dazzling views to take your breath away. The beautiful bay has calm and shallow waters which are ideal for watersports and fun in the sun.
Vilanculos, Mozambique (situated on the mainland)
Just beyond the bay is the magnificent Bazaruto Archipelago, a chain of islands in a marine national park. This area has become a favourite Mozambique holiday destination and stopover for many sunseekers.
The town is a few kilometres inland from the bay where visitors will find restaurants and bars, banks, fuel, markets and basic supplies. The local airport in Vilanculos is busy with daily local and international flights.
Vilanculos is about 750km (466 miles) north of Maputo, Mozambique's capital, on tarred roads suitable for a regular vehicle. Visitors to this Mozambique city can also bring a 4x4 vehicle for off-road adventures and explore the countryside. The town itself is compact and easy to get around on foot.
The markets in Vilanculos have lots of fresh fruit and vegetables and various arts and crafts can be found at the cultural centre to take home. Famous Mozambique prawns and beers are readily available at a number of town eateries or at lodge/resort restaurants on the bay.
Vilanculos in Mozambique is a popular tourist destination and has a variety of Vilanculos accommodation options available. From hotels to lodges, to self-catering resorts, you will definitely find suitable Vilanculos accommodation for yourself and your family.
Day Trips and Excursions
The beautiful beaches along the coastline of Vilanculos are superb for horse riding and guided trails or visitors can set sail on a dhow (local sailing boat), to cruise on the crystal clear waters while lunch is prepared on board.
Diving and snorkelling safaris are a must in the Bazaruto National Park where a variety of marine species can be seen including manta rays, whale sharks, turtles and Hump Back Whales in season. This area is one of the few sites where the rare Dugong lives. Visibility in the clear water can be as far as 40 metres.
Deep sea fishing, especially for Black Marlin, is a major attraction in the waters surrounding this Mozambique marine park from October to February. A variety of Tuna species are also found in this area or visitors can try their hand at salt-water fly fishing.
Visitors to Vilanculos with 4x4 vehicles can venture inland to the Zinave National Park, part of the Great Limpopo Transfrontier Conservation Area Mozambique. This park is completely undeveloped and has a diversity of landscapes including miombo forest, riverine vegetation, open bush and even lagoons. A variety of animals reside here such as lion, leopard, cheetah and spotted hyena.
Stay in Vilanculos
See a selection of Vilanculos accommodation options.