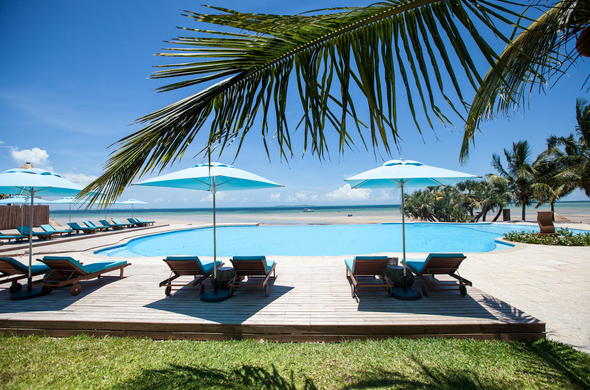 Enjoy scenic surroundings, comfortable Mozambique lodge accommodation and exquisite cuisine at Vilanculos Beach Lodge.
Exciting aquatic adventures and other activities
Situated only 8km from Vilanculos International Airport
Accommodation is offered in 22 Double Luxury Bungalows
Perfect base for exploring the Bazaruto Archipelago and Vilanculos
Renowned for being the ideal base to explore Bazaruto Archipelago and Bazaruto National Park, a friendly and lively island experience of a lifetime awaits at Vilanculos Beach Lodge. Situated in a small coastal town of Vilankulo, this beach lodge in the Inhambane Province enjoys a lovely subtropical climate and an incredible marine life.
The natural indigenous design elements of this Vilanculos beach lodge comes through in its thatch and local hardwood simbire poles that are beautifully framed by plaster walls and wooden doors. The relaxed yet chic finishes of Vilanculos Beach Lodge makes it the perfect destination for a barefoot beach holiday in Mozambique.
Some of the world's best snorkelling, diving and big game fishing is offered at the Archipelago and guests of Vilanculos Beach Lodge can take fully advantage of these beach safaris. Among the many highlights of this stunning region is the fact that it is home to the last viable population of Dugong on the East African Coast.
Inside the main area of Vilcanculos Beach Lodge you can find the lounge, reception, restaurant, kitchen and bar area. It is housed under a thatched structure that blends in well with its African beach environment, and the open spaces and passages lead into the beautiful gardens.
Mouthwatering meals that are influenced by Mozambican and Portuguese traditions can be enjoyed at the restaurant. Enjoy a continental feast for breakfast, a light lunch, indulge in as much cappuccinos and espressos as you like during the day, and enjoy a spectacular dinner at night. Choose to dine outisde under the palm trees or next to the swimming pool.
The pool area has stunning uninterrupted views of the ocean, offering a refreshing respite from the heat. Relax at the pool bar, overlooking the gardens, pool and beach and enjoy a drink while you relish the atmosphere.