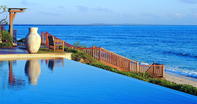 The route between Vilanculos and Pemba in Mozambique boasts sights like the Gorongosa National Park, Ilha de Moxambique or the cities Beira and Tete...
Access

Flights (various airports), by car (some routes suitable for 2wd but mostly 4x4 and high clearance vehicles only). Consult a friendly Siyabona Travel Consultant

Airport

Vilanculos; Beira; Tete; Quelimane; Nampula; Nacala and Pemba.

Highlights

Gorongosa National Park; Ilha de Mozambique; beautiful beaches and remote bays; spectacular diving and snorkelling; diverse scenery; mountainous regions.

Activities

Diving and snorkelling; fishing and watersports; safaris; game drives; eco trails; sailing on a dhow; cruises; market shopping; local sightseeing and dining.

Pemba Accommodation

Pemba hotels in Mozambique
Vilanculos To Pemba, Mozambique
There are many attractions along the coast and inland between Vilanculos and Pemba. Visitors to this Mozambique area can choose a destination or explore this countryside in a variety of ways. The following destinations are listed in order moving north towards Pemba, Mozambique. For expert travel advice and itineraries to suit, contact a Siyabona Travel Consultant.
Beira, Chimoio, Gorongosa NP and local National Reserves
Beira
Beira is a busy port in Sofala Province and the 2nd largest city in Mozambique. The airport is the nearest for access to beautiful Gorongosa National Park. Beira is located on the mouth of the Pungwe River. This Mozambique city is linked to Harare in Zimbabwe and Malawi by rail and road and was in the past, a popular holiday destination for visitors from over border.
This city in Mozambique has a colourful colonial past and the architecture around the central square reflects that. There are a number of historic buildings, restaurants and cafes, modern banking facilities and general amenities. The attractive beachfront in Beira is a short drive away at Macuti.
Attractions include:
The Cathedral; Largo do Municipio; Casa Portugal; Casa Infante; Casa dos Bicos
Spectacular sea views and seafood at Macuti beach restaurants
Curios and handcrafts at local markets and shops in the old town
Savane Beach, north of Beira for a lovely day out (4x4 only)
Chimoio
This bustling provincial capital city is located in lush surroundings, west of Beira near Manica and the Zimbabwe border. Chimoio in Mozambique has an airstrip, most amenities and accommodation with a strategic location for rail and road routes between Beira, Mutare (Zimbabwe) and Tete.
Attractions include:
Stunning Lake Chicamba
Cabeca do Velho, a rock formation in the shape of a face
The Old Windmill, just east of the city
National Parks and Reserves near Beira
Gorongosa National Park
This scenic treasure at the end of the Great Rift Valley in Mozambique is a major wildlife reserve which is undergoing rejuvenation. Mount Gorongosa is just northwest of Beira with spectacular views overlooking the massive reserve. Visitors in this Mozambique area can see rainforest, waterfalls, streams and rivers, woodlands and savannah in the park.
Animal stocks and facilities are in the process of being rebuilt, accommodation and a restaurant are available. In season (April - Oct) a high clearance 2wd vehicle can access Gorongosa National Park otherwise a 4x4 is recommended.
Attractions include:
Magnificent scenery and birdlife
4 of the Big Five animals and many others resident in the park
Game drives, community walks, birding safaris
Chimanimani National Reserve
This remote Mozambique reserve is west of Beira just past Chimoio and has diverse ecosystems with prairies and mountainous regions which support Buffalo, a wide variety of antelope and birdlife. Chimanimani is undeveloped with basic camping and access is by 4x4 only.
Marrowmeu National Reserve
This undeveloped reserve is north of Beira, Mozambique, and is especially notable for its prolific birdlife. There are 4 of the Big Five animals amongst other mammals in the reserve.
Inland attractions north of Chimoio
Tete / The Cahora Bassa Dam
The provincial capital of Tete is a busy centre located on the banks of the mighty Zambezi River connecting Mozambique to Zimbabwe and Malawi. Temperatures soar here (the hottest in the country) so visitors should go prepared. This city in Mozambique has an airport, modern banking facilities, market, restaurants and accommodation. The most striking feature of Tete is the suspension bridge over the river, legendary Baobab trees can also be seen in this area.
Northwest of Tete is the town of Songa and the massive man-made Cahora Bassa Dam (hydroelectric scheme). This engineering marvel is the 2nd biggest in Africa and the site of excellent Tiger Fishing adventures. Permission to visit the dam is required and can be arranged in Tete.
Attractions include:
Tete Suspension Bridge
The Baroma Jesuit Church outside Tete
Tiger fishing on Cabora Bassa Dam, tours of the hydroelectric scheme
Between Beira and Nampula (north of the Zambezi River)
Quelimane, Zalala and Gurue
Quelimane is the port capital of Zambezia Province in Mozambique and is located on a river, the Rio Bons Sinais, which was named by Vasco da Gama. The port in this Mozambique city is not far from the ocean and there are many coconut palms, some of the tallest in the world, in this area. Quelimane has an airport, modern banking facilities, shops, markets and most amenities. The riverfront is lively with restaurants and cafes.
Gorgeous beaches and some restaurants can be found north of the city at Zalala Beach, Mozambique. Pebane Beach is also lovely but it is rural. The Gile National Reserve near Pebane has 3 of the Big Five animals, wild dog and hyena, with access to the reserve by 4x4 only. Adventurers can head inland to beautiful but remote Gurue on a mountainous route to Nampula, where there are a number of hot-water springs and tea plantations.
Attractions include:
The Cathedral and ornate modern Mosque in Quelimane
Long sandy beaches at Zalala and Pebane
Gile National Reserve
Tea Plantations and fabulous scenery in the northern district, west of Nampula
Nampula, Ilha de Mocambique, Nacala and Baixo do Pinda
Nampula is the provincial capital and the main airport access for Ilha de Mocambique, a World Heritage Site. The city has modern amenities and most services as well as mosques, a stunning cathedral and museum. Mozambique Island (Ilha de Mozambique) is accessed from Nampula via a tarred road and bridge.
Ilha de Mocambique
Ilha de Mocambique has an amazing history and ancient buildings made from coral, some of which are now in the process of restoration. This Mozambique island has 2 sections, the oldest is Stone Town in the north. With not much having changed on the island in a couple of hundred years there is a unique ambience where visitors can step back in time.
There are various historic sites and places of interest on Ilha de Mocambique as well as a dive centre. The silversmiths on Ilha de Mocambique (in Makuti town) are well worth a visit. Visitors can observe the crafters while they make original and inexpensive jewellery using ancient methods.
Attractions include:
The Portuguese Fort
Chapel of Nossa Senhora (dating back to 1552)
The Governor's Palace
Diving and snorkelling trips
Dhow safaris and trips to Chocas Beach on the mainland
Nacala
Nacala in Mozambique is an important port (one of the deepest harbours in the world) and close to Nacala Bay for fantastic diving on unexplored and pristine coral reefs. The town has strategic rail and road links to Malawi, an airport and amenities like modern banking, shops, markets and restaurants. The bay has a beautiful beach and dive lodge. The waters are warm and clear offering ideal conditions to discover the different corals and exciting topography on a Mozambique holiday.
Baixo do Pinda
Just further north of Nacala Bay is the Baixo do Pinda Peninsula, Mozambique, with stunning beaches and secluded bays. Superb diving and snorkelling can be found here and training for all levels is available at the PADI dive centre. Visitors to this Mozambique area will find eco lodge accommodation, beach activities, watersports, eco trails, land and sea safaris plus many more attractions. Access to this area is by road or air charter from either Nampula or Pemba.