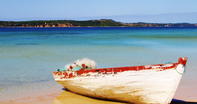 Travelling En Route to Inhambane in Mozambique - Travel Guide Information and tips on Bilene and Xai Xai.
Bilene
On the way from Maputo to Inhambane lies Bilene. This is a popular Mozambique holiday village and is situated on the banks of a beautiful lagoon. It is about 160km (99 miles) north of Maputo.
The lagoon is separated from the Indian Ocean by a large sandbar offering a protected area for all kinds of watersports and beach activities with good stretches of white sands and shallow, calm waters. 4x4 enthusiasts and those with boats can access the mouth of the lagoon and beach facing the sea.
This village in Mozambique has numerous restaurants and bars, a weekend disco, great bakery, fuel station, simple shops and market. There are no credit card facilities in Bilene.
Xai Xai (pronounced "Shy Shy")
This bustling town alongside the Limpopo River is the capital of Gaza Province and situated 200km (124 miles) north of Maputo. Xai Xai has been a long-standing holiday destination for many years and has most amenities including markets, shops, restaurants, bars, petrol stations banks and a post office. The main beach is about 15 minutes drive from the town and forms a long sweep of sand with safe swimming.
Xai Xai in Mozambique has a reef running parallel to the beach where great snorkelling can be enjoyed. Popular beaches in this area include Chongoene and Zongoene. Attractions include the fascinating Wenela Tidal Pool and a number of freshwater lakes within a 30-minute drive which are ideal for watersports and windsurfing. Sunset cruises can also be enjoyed on the Limpopo River, Mozambique.
Chidenguele
The coastline between Xai Xai and Inharrime in Mozambique is very picturesque with stunning fresh and saltwater lakes along the way. Most lodges in this area require a 4x4 vehicle for access but some are easily reached from the main highway EN1. Lovely white sandy beaches can be found around the lagoons. Lake Inhambavale is great for watersports. Only basic supplies can be found in this Mozambique area, like fresh bread and limited fruit and vegetables.
Other attractions in Chidenguele include the Boa Paz Lighthouse (on a walking route or a 4x4 track); the old Cathedral in the village accessed by sealed road; a shipwreck on the beach near Kings Pools and the little village of Quissico. Quissico in Mozambique has fabulous views of the lakes and is famous for its music and dancing Timbila Festival at the end of June each year.
Inharrime
Inharrime is another small Mozambique village surrounded by lakes. Visitors will find more beautiful deserted beaches along this attractive coastline and get good views of dolphins in the waves and Hump Back Whales in season. Inhambane is 105km (65 miles) further north.