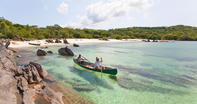 This stunning Mozambique reserve on the Lugenda River and bordering Tanzania, is the largest in the country if not Southern Africa. Game rich and with vast forest, riverine, savannah and prairie eco-systems, this untouched reserve managed to escape the ravages of civil war probably due to its remote position.
Lichinga
The capital of Niassa Province, Mozambique, is situated at high altitude on a plateau, surrounded by lush vegetation and pine tree plantations. Lichinga has most modern facilities and services including an airport which is connected by flights to most other provincial capitals.
Road access is really only for 4x4 vehicles, although tourism is increasing in this area and improvements are likely. This Mozambique town is well located for access to surrounding attractions of Niassa National Reserve and Lake Niassa(or Lake Malawi as it is otherwise known).
Niassa National Reserve
Niassa Reserve in northern Mozambique is known for its elephant, buffalo, lion and wild dog populations. It currently supports 4 of the Big Five animals and exotic birdlife amongst many other fascinating creatures. Accommodation and safari facilities can be found in a private concession adjacent to the reserve on the banks of the Lugenda River.
Access to Niassa Reserve in Mozambique is via the local airstrip with air charter from Pemba, or by road from Lichinga. There are parts of the reserve which are only for 4x4 vehicles and even these routes are not possible during the rains. The winter months are best for viewing the reserve (April to October).
Lake Niassa and Manda Wilderness Reserve
The beautiful Lake of Stars was so named by the explorer David Livingstone. Lake Niassa is the Mozambique name for Lake Malawi. The shores of the Mozambique side are unspoiled and remote. It's an area of breathtaking beauty edged by sandy beaches and pristine forest. The freshwater lake is absolutely teaming with unique fluorescent fish and the waters are warm and clear.
Manda Wilderness Reserve in northern Mozambique is right on the shores of Lake Niassa and a superb bush and beach escape. This reserve has been established to restore game stocks and rehabilitate the surroundings in conjunction with the local community.
The wilderness area has diverse flora and fauna. Visitors to this Mozambique reserve will find luxury lodging, lake and land activities including walking or canoe safaris. Access is via Lichinga, Cobue or Likoma Island on the lake.