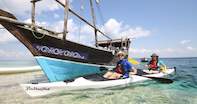 For those with a sense of adventure, Mozambique Island Hopping is the perfect holiday! Sail the azure waters of the Quirimbas Archipelago in Northern Mozambique with your expert guide and crew. Surrender to the moment and take a journey of discovery, exploring wild frontiers and uninhabited islands.
8 day Island Hopping Dhow Safari
What could be better than fresh seafood and tropical delights cooked just for you over an open fire? Wiggle your toes in the sand and count stars in the brilliant night skies or chase Coconut crabs along the shore! Sounds exciting? Then this is the 'once in a lifetime' adventure for you! Ibo Island Lodge offers dhow, kayak and birding, mobile tented island hopping safaris in the Quirimbas Archipelago, Northern Mozambique.
With the expert leadership of your pro guide and local crew, you will sail a coastline fringed by tropical islands on a sturdy motorised 11 metre Arab dhow. You can sea kayak or sail up broad coastal river mouths with their untouched mangrove forests and prolific red listed bird species. Or, snorkel off deserted white sandbanks and swim in the turquoise seas of Mozambique.
A local chef creates mouth-watering traditional cuisine over a crackling fire and you dine on fresh seafood under the stars. You sleep overnight in mobile fly camps on deserted tropical islands. All mobile options include the mystical and ancient Ibo Island in Mozambique where you spend 3 nights at the beautiful Ibo Island Lodge in comfort and luxury. Enjoy wonderful guided historical and cultural safaris on the island.
Days 1 - 2: Johannesburg - Pemba - Mogundula Island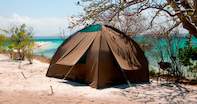 You will board a flight from Johannesburg to Pemba International Airport, where you will be met and taken to your transfer vehicle for the 3-hour road transfer to Mucojo. On arrival at Mucojo there will be a dhow transfer to Mogundula Island. Mogundula Island is one of the best islands in the Quirimbas Archipelago.
It is a great base from which to explore, which is why you spend 2 nights here. It is known by the locals as the 'island with the sacred lake'. Mogundula offers exceptional bird watching, pristine swimming off the sandbanks and excellent snorkelling.
The camp is set up under shady trees and you have this beautiful uninhabited island all to yourself! Enjoy overnight camping and exploring on Mogundula Island and in the surroundings, also a day trip by dhow to the Pangane Peninsula, and / or Macaloe Island from the camp. Accommodation is in a mobile camp with dome tents, stretchers and all expedition equipment. Included Meals: Dinner. (all drinks for your own expense)
Day 3: Start of Dhow Safari - Mogundula Island to Ulumbwa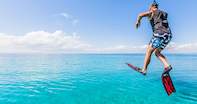 Today you will climb aboard your dhow! Your trusty crew, carrying equipment and supplies, accompanies you. Depart Mogundula Island for your voyage into the Quirimbas Archipelago!
Sail into crystal clear waters
and snorkel through the big blue exploring the pristine displays of coral. The Ulumbwa River mouth has a unique allure with fascinating rural fishing villages dotted along its shore. This is your chance to
camp on a beach
in the open Mozambique bush, just south of Ulumbwa. Accommodation is in a mobile camp with dome tents, stretchers and all expedition equipment. Included Meals: Breakfast. Lunch. Dinner. (all drinks for your own expense)
Day 4: Ulumbwa to Matemo Island
Azure waters and stunning scenery awaits you en-route, but first there is an early morning sail up the Ulumbwa Estuary to view a variety of birds and mangroves that flourish in this area. In the afternoon, you take a tour through the local fishing village with your knowledgeable guide, learning the ways of these fisher folk.
There will be a stop at the southern tip of Matemo Island and an opportunity to explore this part of the island. Accommodation is in a Matemo community mobile camp with dome tents, stretchers, and all expedition equipment. Included Meals: Breakfast. Lunch. Dinner. (all drinks for your own expense)
Days 5 - 7: Matemo Island to Ibo Island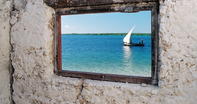 Ibo Island is certainly one of the most compelling attractions in the Quirimbas Archipelago, Mozambique, with its 200-year-old ghost town and 16th Century forts. You are assured of a fascinating journey into an era that is long forgotten. The Ibo Island Guided Experience (included activity) provides an opportunity to interact with the incredibly friendly local people and observe their special island culture.
Their unique heritage and way of life has remained unchanged for hundreds of years. You can wander around mysterious ruins, forts and ancient trade buildings and uncover their secrets. Enjoy spectacular views over the waterfront and the simple, yet elegant Mozambique accommodation at Ibo Island Lodge. The lodge consists of historic colonial mansions with impressive hand-crafted furniture and high ceilings, which have been beautifully renovated.
Deep verandas and tropical gardens offer special spaces to just relax while the rooftop restaurant is the perfect spot to watch the sun go down. Ibo Island Lodge is a superb base from which to explore this interesting island. Ibo Island Lodge with spectacular views over the waterfront, this historic, colonial mansion with its high ceilings has been stylishly renovated and accommodates guests in beautifully simple yet elegant rooms.
Various verandas, tropical gardens and an airy rooftop restaurant provides an ideal setting to watch the sunset. The emphasis at this Mozambique lodge is on complete relaxation and a base from which to explore this fascinating island. Accommodation is at Ibo Island Lodge. Included Meals: Breakfast. Lunch. Dinner. (all drinks for your own expense)
Day 8: Ibo Island - Pemba - Johannesburg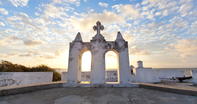 A beautiful light aircraft flight transfer is included in your safari. You travel over the Mozambique islands and bright blue waters to Pemba International Airport and then board your flight from Pemba back to Johannesburg. Included Meals: Breakfast (all drinks for your own expense).
Need to Know
All camping will be bush or island camping on the kayak safari. Washing water is limited. Meals will be simple and nutritious, based on the dry stocks that are carried on the safari, and enhanced by fresh fish and seafood available en-route.
This itinerary is provided as a guideline only - it will need to be very flexible to accommodate local conditions and is therefore reliant on the weather and tides. You can, however, be assured of a great Mozambique island adventure against a background of wonderfully varied and untouched coastal scenery.
Included
Meet & Greet road transfer from Pemba Airport
Scenic light air-craft transfer from Ibo Island to Pemba
5 days' island and mainland hopping by Dhow (traditional sailing boat)
4 nights' camping accommodation at island, river and beach camps (sleeping bag, pillow and towels are supplied)
3 nights' lodge accommodation at Ibo Island Lodge
Breakfast, lunch and dinner as per itinerary (occasionally breakfast and lunch may be combined into brunch)
Experienced English and Portuguese speaking crew
Island Tours
Kayaking
Guided Historical Tour of Ibo Island
Access to private sandbank beach on Ibo Island
Not Included
National Park Fees and Ibo Island development taxes
Optional activities and excursions not specified
Meals and all other extras and drinks to be settled directly