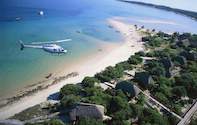 © Justin Fox
Read more on useful Mozambique travel tips for visitors including info on flights, visas, malaria, what to pack and more...
Flights to Mozambique
When travelling to Mozambique from the Americas or Europe most flights are routed via Johannesburg. There are direct flights to Maputo out of Johannesburg operated by South African Airways (SAA) and Linhas Aéreas De Moçambique (LAM - Mozambique Airlines). There are a number of local and international flights that operate within the country between Beira, Pemba, Nampula and Vilanculos.
Flights to Mozambique are also offered from other cities in South Africa such as Cape Town, and Durban. LAM also offers flights from Dar es Salaam in Tanzania and Nairobi in Kenya. Flights are also offered from Harare in Zimbabwe. Mozambique has three international airports - Maputo, Pemba and Vilanculos. Airport taxes are automatically included in all international airfares.

Our Siyabona Destination Experts will arrange all flights, transfers and travel arrangements for you.
Passports and Visas
When travelling to Mozambique you need passport which is valid for at least six months. All visitors to Mozambique need to obtain a visa to enter the country except visitors from Botswana, Malawi, Mauritius, South Africa, Swaziland, Tanzania, Zambia and Zimbabwe.
It is a good idea to obtain visas in advance and they can be obtained from Mozambique embassies or consulates. Visas are also issued at international airports and border posts.
Health
Malaria occurs in many parts of Mozambique and taking some form of anti-malaria medication is strongly advised. It is recommended that you speak to your doctor regarding immunisations. It is a good idea to make sure that you have been vaccinated against polio and tetanus. If you are arriving from a yellow fever area you will need to provide a yellow fever certificate.