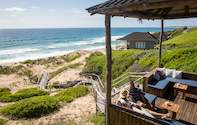 Sava Dunes is an eco-friendly lodge, located on a remote stretch of beach along the rugged Inhambane coastline in Mozambique between Barra and Tofo.
Why We Love it and You Will Too
The location of Sava Dunes is totally exclusive and well off the grid, making it oh-so perfect for those looking for absolute privacy during their Mozambican holiday.

At this eco-lodge, relaxation is the order of the day and you can easily while away your time watching for whales, observing the locals fishing with their small dhow boats and tucking into some seriously good seafood.

You'll have the beach right on your doorstep and a choice of five ocean-facing chalets with private balconies, and one garden-facing family chalet.

With all units perched upon a golden sand dune, the views are excellent from all directions, and when the tide goes out, the untouched stretch of beach becomes ripe for a romantic walk.

The Sava Dunes staff are always open for conversation, and very willing to help with arranging last-minute activities like snorkelling, surfing, diving, deep-sea fishing and even horse riding, too.
Your Sava Dunes Experience
Sava Dunes is ideal for a relaxing Mozambique getaway well off the tourist path and is very much considered one of our hidden gems. It's a fond favourite that we recommend to those who want to spend the last few days of their holiday in Africa by the beach.
Located just north of the bustling fishing village of Tofo and settled along the Inhambane coastline, this luxury eco-lodge sits quietly above a series of beach dunes ensuring endless views of the Indian Ocean. It's the kind of place where you can saunter out of your chalet, walk out along the water's edge for miles and still feel like you're the only person there.
Apart from their warm hospitality, the meals served at the on-site restaurant will truly make your stay memorable. The food is off the charts, with dishes prepared using the freshest farm-to-fork, or should we say sea-to-spoon ingredients.
In the way of activities, water-babies will fall head over heels for Sava Dunes. You can swim, surf, fish and snorkel to your heart's content, embark on diving, boating and kayaking trips and even saddle up for a horse ride. And since there is a high emphasis on relaxation, when you get to the lodge, feel free to spend the late afternoon frolicking in the pool. Need a top-up of your favourite cocktail? No need to leave the water. Just float on over to the well-stocked swim-up bar.
The sea is always on display from the main viewing deck but also from your private Sava Dunes chalet. If you prefer to catch up on some holiday reading or slot in a sneaky afternoon siesta, this is just the place to do it. Take your pick from your very own hammock, cushioned wicker chairs or king-sized bed.