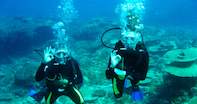 Mantas, Turtles, Sharks, Whales and more! Experienced divers can enjoy this 5 day Mozambique Diving Bazaruto Package which includes dives at Two Mile Reef, one of the most pristine dive sites in the world.
Mozambique Diving Bazaruto Experience
Our Diving Bazaruto Package is aimed at experienced divers who are looking for challenging dives at some of the world's best dive locations during their Mozambique holiday. Come and explore the fascinating world below the waves. Explore famous Two Mile Reef - a Turtle lover's paradise.
Two Mile is a long stretch of pristine coral reefs. The northern side is abundant in colourful coral, while the southern side is flatter and sandier with a good chance of seeing big rays. The underwater life around is amazingly varied, with 75% of the Indian Ocean reef fish having been spotted here, 7 different kind of rays, reef sharks, turtles and more. The best part is that you will not see anybody else underwater and the only bubbles you will see will be from your fellow divers in your group (max 6 divers).
Please note you cannot fly within 24 hours of diving which is why day 4 has been kept for a free day. This itinerary can be extended or shortened to your liking - please speak to your Siyabona Africa Destination Specialist.
Day 1: Arrive Vilanculos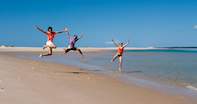 You will get a transfer from Vilanculos Airport to Casa Babi, a charming Bed & Breakfast accommodation in Vilanculos. You will stay in a sea view room with a private veranda.
Spend the afternoon exploring the beautiful beach and relaxing before enjoying a delicious dinner. A new menu is displayed daily with fresh local cuisine including local delicacies made with seafood and prawns.
Day 2: Double Dive Bazaruto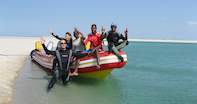 Spend the next 2 days on full day diving and snorkelling excursions to Bazaruto Island. You will be collected from your Vilanculos accommodation at 8am and travel 45 minutes to Benguerra Island.
The boat will stop off inside the reef and prepare for the dive. The dive instructor will brief you about the first spot you will dive at Two Mile Reef, comprising of a long stretch of pristine coral reefs. Maximum bottom time 60 minutes, air permitting.
After the dive you will enjoy a fantastic lunch break on Bazaruto and take an hour to rest, climb the dune and enjoy the stunning view from the top.
After the surface interval, you will go back to Two Mile Reef for the second dive, but to a different site. You will return back to Casa Babi in Vilanculos at 4:30 pm.
Day 3: Single Dive & Snorkelling
Today will follow the same routine, you will be fetched at 8am and taken to Bazaruto Island for a morning dive followed by lunch and then a relaxing snorkel when the tide is at its lowest when the Aquarium is protected from the waves of the Indian Ocean by Two Mile Reef. The Aquarium is like a big swimming pool scattered with corals abundant with beautiful tropical reef fish.
You will spend the rest of the afternoon on Bazaruto (3 hours to 3 ½ hours) to snorkel from the shore, enjoy the dune and its panoramic views, trek into the bush or just relax on the beach. You will arrive back in Vilanculos at around 4:30pm.
Day 4: Chill on the Beach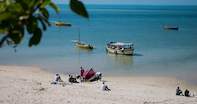 Today you will spend the day at leisure and rest after an exciting 2 days of dives. Chill on the beach or enjoy some of the other activities including stand up paddling, kite surfing, horse riding, canoe trips and town tours.
Day 5: Depart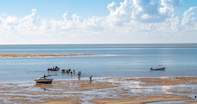 Have a delicious breakfast and enjoy one last walk on the beach before getting transferred back to Vilanculos Airport for your onward travel arrangements.
Included
Scheduled return flights from Johannesburg to Vilanculos Airport
Return road transfers between Vilanculos Airport and your accommodation
4 nights' accommodation with en-suite bathroom and private veranda with sea view
Breakfast
Lunch packs included on Day 2 & 3 diving excursions
Transportation to and from Bazaruto Island for diving excursions
Double Dive (day 2 or day 3)
Single Dive plus Snorkelling combo (day 3 or day 2)
Snorkelling gear
Diving Gear
Not Included
All extras, drinks and laundry to be settled direct

Lunch on days 1, 4 and 5 as per itinerary
National Park entry fee to be paid in cash daily