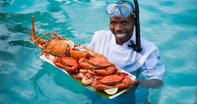 Mozambique has an interesting and flavourful cuisine that has been strongly influenced by the Portuguese who colonised the country for 500 years.
Fresh Seafood Daily
Many of the tourists to the country visit Mozambique's beautiful coastline to enjoy swimming and diving in the warm waters of the Indian Ocean. What many tourists take away from their holiday are the tasty seafood dishes Mozambique has. Many consider their shellfish such as prawns and crayfish to be the best in the world. In fact, one of the best known Mozambique dishes is Shrimp or prawns done Peri-peri style. Seafood also forms a large part of the local diet, as it is abundant and cheap.
A local dish without any Portuguese influences is Matata which is a seafood stew, usually made using clams in a peanut sauce. Grilled seafood often liberally basted in peri-peri sauce is commonly served along with rice and chips (fries).
Pre-amble
Mozambique is justifiably famous in Africa for its cuisine. With its long coastline and rich fishing grounds, it's no wonder that many of its famous dishes revolve around fresh seafood. The colonial history of the Portuguese is also seen in the use of spices such as chilli the fiery Peri Peri chicken.
The Hotter the Better
Mozambican food is decidedly spicy due to the chilli peppers, garlic and lemons that are liberally used. Peri-peri means "spicy-spicy" and it is a standard accompaniment to just about all meals. It is one of the most characteristic flavours of the cuisine. Traditionally it is made by pounding red chillies, garlic, salt and olive oil and lemon juice together.
The History of Arab Influence over Food in Mozambique
The traditional ethnic food of Mozambique is rich and varied. The traditional, spicy cooking of Zambézia, Mozambique is highly regarded. Zambézian chicken, grilled with palm oil, is a particular delicacy. The original inhabitants of the country lived a hunter-gatherer lifestyle before becoming farmers. Around the year 700 Arab slave merchants set up trading posts throughout Mozambique and introduced the local population to salt as a means of preserving food.
The Arabs also introduced various spices and Arab pastries such doughnuts. In the 15th century, the country was colonised by the Portuguese who brought with them ingredients from their other colonies in America They introduced a lot of seasonings that were incorporated into the local cuisine of Mozambique.
Among the ingredients that the Arabs brought with them were onions, bay leaves, garlic, fresh coriander, paprika, chilli peppers, sweet peppers and wine. They also introduced maize, rice and potatoes which became staple foods. These ingredients were melded with traditional African ingredients to create unique and delicious cuisine.
Traditional Ethnic Food Today
Today many of Mozambique's inhabitants are very poor. The country is recovering from wars and natural disaster and many people do not eat hearty meals every day. This is especially the case further inland in the rural communities. There people's daily diet is less varied. However, along the coast, the cuisine is largely based on fresh seafood. The staple food of Mozambique is a maize porridge and meat or vegetable stew. However many different styles of cuisines are enjoyed throughout the country.Breakfast is usually a light meal such as an egg sandwich, maize porridge and tea. The main meal is normally eaten at lunch which is called (almoço). In towns and cities lunch is often purchased from street vendors. Favourite lunch dishes include Pregos (steak sandwiches) fried chicken and stews or curries served with rice.Dinner (jantar) may be the main meal for Mozambicans living in the cities. A formal Mozambican dinner is a unique experience as it combines Portuguese and traditional African influences. Unlike many African countries the dinner will be served with guests seated at the table.The table will often be dressed with a table cloth and the meal served on plates and eaten with knives and forks. This shows the European influences of the Portuguese as in many African cultures you eat with your hands. In more affluent homes there are usually three courses, a soup or starter, a main and a dessert. Portuguese wine is the most common accompaniment.Although many of the country's people practice traditional beliefs, there is a strong Catholic influence in the country and meat is often avoided on a Friday. Consequently Christmas is often a big celebration and Mozambicans will celebrate by making a Cashew nut and Potato cake called Bolo Polana.