A wildlife safari in Mozambique is fast becoming a must-do among safari connoisseurs, with untamed parks, beautiful scenery and a growing wildlife population coupled with beautiful beaches.
There are few countries in Africa that have had to recover from civil unrest to the extent that Mozambique has had to. After more than thirty years of war the people of Mozambique had had enough and
peace was decided upon in 1992
. But what affect did the thirty years have on the wildlife of the country?Mozambique is firmly on the way up when it comes to growth and development, and in particular in the tourism industry where the famous
beaches have been supplemented
by other even more spectacular coastal resorts and island getaways. But it is in the wildlife field where some of the most exciting developments are taking place.
Mozambique as a wildlife safari destination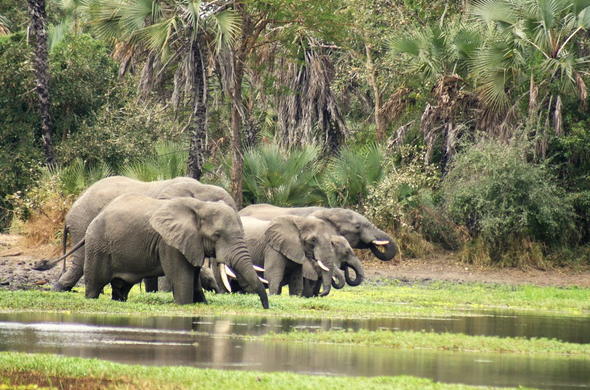 How is a country with a history of brutal civil war and wildlife genocide marketed to a world that is getting weary of marketing jargon? Mozambique is making it easy and ensuring that the promises are fulfilled. Known more for its beaches Mozambique is redefining itself as a wildlife safari destination.
The parks of Mozambique are fascinating in their various histories and associations. In the south the Limpopo National Park is now linked to the legendary Kruger National Park, this after the fence between the two was taken down by the South African authorities. Mozambican wildlife now roams freely between the two parks.
In the far north the
Niassa Game Reserve
, left virtually untouched by the civil war, tempts visitors to an
experience of pristine and untamed Africa
of centuries ago. There are not many parks in Africa today that can offer the experience that Niassa does.Surely the park with the most fascinating story is Gorongosa in central Mozambique. The subject of the documentary 'Return to Eden' Gorongosa had gone from
one of Africa's top wildlife reserves
to a wasteland decimated by civil war - but is now been rejuvenated to its former glory.
From paradise to hell and back
Gorongosa National Park
was one of Africa's key reserves in the 1960's; with a great diversity of fauna and flora, but with the civil war the wildlife was devastated through
poaching for ivory and meat
to feed the armies. Gorongosa was in the center of the battlefield that was Mozambique.New ventures and investment in the past ten years have ensured that Gorongosa National Park is
slowly returning to former glories
and the development of tourism facilities has ensured that visitors can experience the incredible project that is happening there.
Mozambique - a highly recommended African wildlife safari
The horror stories around the wildlife and parks of Mozambique should now be written into history and a concerted effort made to promote this extraordinary wildlife safari destination, not only to show support for the people of the country but also to experience one of the best wildlife safaris in Africa.
Read more about the wildlife of Mozambique