Private Island Bazaruto Honeymoon Package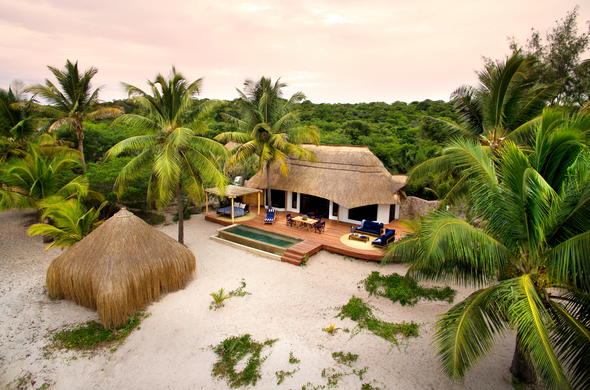 Our 8 day Private Island Honeymoon Package allows you to escape to a secluded tropical paradise in the Bazaruto Archipelago. Imagine going on sunset dhow cruises and leisurely walks on the endless beaches.
Accommodation: Beautiful chalets with a queen-size bed, an outdoor shower, private deck and Jacuzzi
Activities: Sea-kayaking, sunset dhow cruises, Land Rover safari tour with picnic, guided walks
Optional Activities: Snorkelling at 2 Mile Reef, diving, fishing, catamaran trips, horse riding and spa treatments
Destinations: Vilanculos, Bazaruto Archipelago
Seasonal: All year around. Dry season (May to October) Rainy season (November to April)
Private Island Honeymoon Experience
Your honeymoon is one of the most important holidays of your life, and this Private Island Honeymoon Package allows you to experience an exclusive island paradise. Relax on the secluded, sandy white beach and enjoy a leisurely picnic of delectable treats. Go on a sunset cruise in a traditional dhow and watch the sun slip into the Ocean.
Explore along the coastline while on a kayaking expedition during your Mozambique holiday. See the islands birdlife while on a guided walk. Discover the heart of the island on a safari tour - perhaps see a Crocodile in the freshwater lakes on the island. Return to the lodge and savour delicious dishes of Mozambique's unique cuisine during a candlelight dinner on the deck of the chalet.
Optional activities include discovering Mozambique's famous marine life while diving and snorkelling some of the best dive sites in the world. Deep sea fishing is also popular, as is going on Whale excursions during the winter months. Explore the tropical coastal forests on horseback. Alternatively, just work on your tan by the pool or be pampered with a sensual massage.
Day 1: Johannesburg - Vilanculos - Bazaruto Archipelago
View Lodge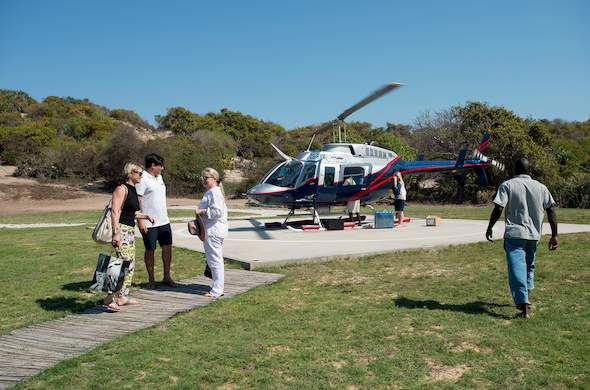 On the first day of the Private Island Honeymoon Package, you will catch a scheduled flight from Johannesburg to Vilanculos.
You will be met by a representative from your exclusive lodge who will assist with catching a helicopter flight to the Bazaruto Archipelago.
At the exclusive lodge, you will be welcomed with a refreshing cocktail by your private butler who will help you settle into your Mozambique beach accommodation.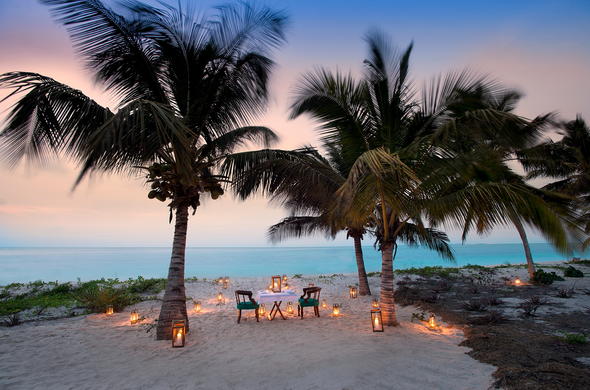 There will be a bottle of chilled bubbly waiting in the room. Just relax and admire the view or have a dip in the crystal clear waters of the Indian Ocean.
Maybe arrange to go on a sunset cruise in a traditional boat called a dhow - capture the magic of bygone days. In the evening you will savour sumptuous Mozambican inspired cuisine during a romantic candlelight dinner on the private deck. (Dinner Included)
Days 2 - 7: Bazaruto Archipelago
View Lodge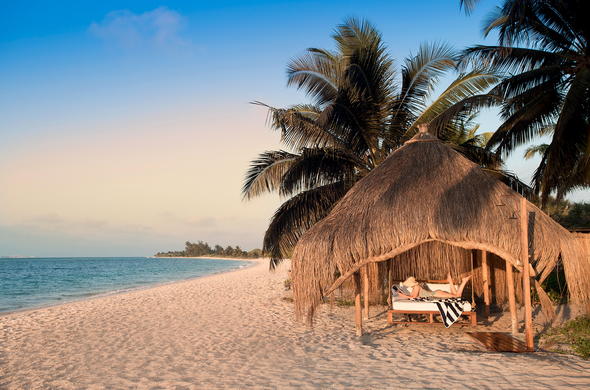 In the morning after a tasty breakfast, set out to explore around the island while on a kayaking excursion. Go on a Land Rover safari into the interior to see the fresh water lakes and see some of the local birdlife and Crocodiles.
Stop off in a scenic, secluded location for a picnic. In the afternoon relax by the pool or take a stroll up the beach.
During your Mozambique holiday arrange to go on optional activities such as a trip to go snorkelling on Two Mile Reef which is renowned for its diversity of marine species.
Enjoy diving in some of the best dive sites in the World. Go on excursions to see Dolphins and Whales (in season), and if you are really lucky see a rare Dugong.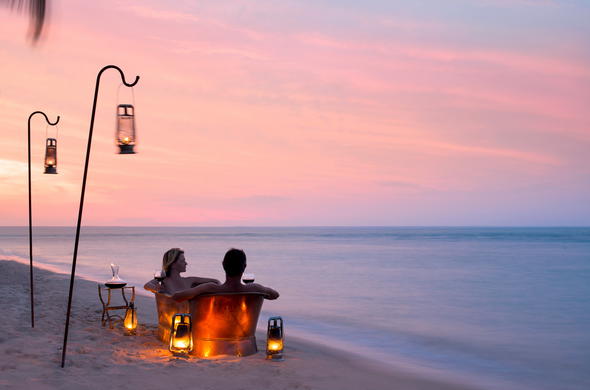 Set out on speed boat trips to nearby beautiful coral islands, stopping off for a picnic on the beach. Explore the picturesque coastline on horseback.
Alternatively, just relax on the beach or by the pool and work on your tan while sipping on a tropical cocktail. Pamper yourselves with soothing wellness treatments at the spa.
In the evenings, feast on fresh and zesty meals created using fresh local produce, based on fantastic seafood and Mozambican specialities. At night, fall asleep to the gentle sounds of the rolling breakers.
Day 8: Bazaruto Archipelago - Vilanculos - Johannesburg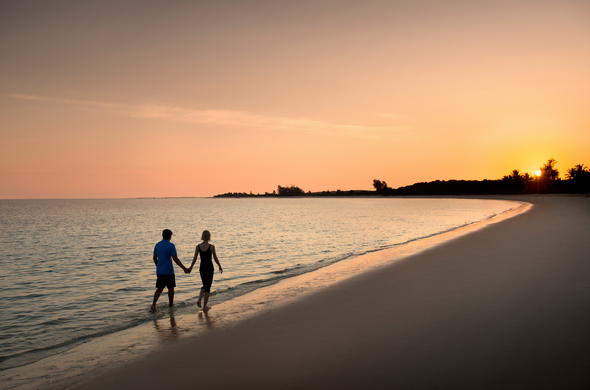 On the final morning of your exclusive Private Island Honeymoon Package you can have one last swim in the warm ocean before a lingering breakfast on the deck. Then another helicopter flight will take you back to Vilanculos, where you will catch a scheduled flight back to Johannesburg.
Included
Return flights from Johannesburg to Vilanculos
Meet and greet at Vilanculos Airport
Return helicopter flight from Vilanculos Airport to Benguerra Island
7 nights' accommodation in a thatched cabana with endless ocean views, outdoor showers, outdoor dining area, colourful hammock, private veranda complete with private plunge pool
Fresh and fragrant meals including breakfast, lunch and dinner
Select local branded drinks including bottled water, tea/coffee, soft drinks, beers, spirits & liquors and house wines
Daily activity including sea kayaking excursions, sunset dhow cruise, scheduled snorkeling trip (one per day)
Local village tour & island expedition
Castaway picnic
Laundry service
Emergency medical evacuation insurance
Special honeymoon treats
Not Included
Premium drinks (champagnes, cognacs & reserved wines)
Optional/additional activities not listed above and all extras to be settled on departure