Villa Santorini, Vilanculos, Mozambique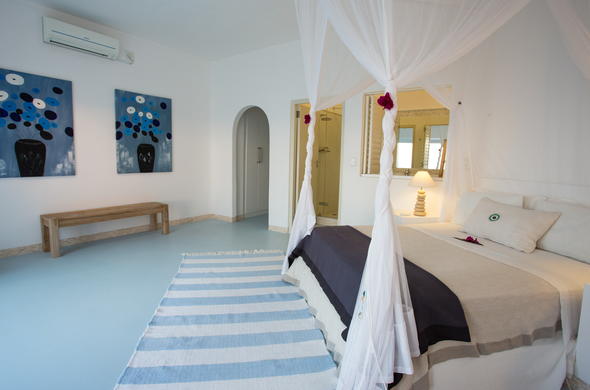 Enjoy picturesque views of the Mozambique beaches, luxury Vilanculos accommodation, partake in water activities and Mediterranean cuisine during your stay at the Villa Santorini in Vilanculos.
Accommodation: In one of six villas with scenic ocean views
Activities: Kayaking, snorkeling, water tubing, water skiing
Highlights: Access to beaches
Location: Vilanculos, Mozambique
Situated in the coastal town of Mozambique known as the Vilanculos Bay, this white walled majestic paradise boasts immaculate scenery and views of the Indian Ocean. The Villa Santorini is only 20 minutes away from the airport and rests on the chain of four Islands comprising the Bazaruto Archipelago - a marine national park that hosts over 1 200 species of fish. This romantic holiday destination in Vilanculos is also known as the gateway to Bazaruto Archipelago.
Feel the white sand of the beach between your toes and let the cool breeze of the ocean tickle your skin. Enjoy refreshments while soaking up the sun and admiring the scenic views of the Indian Ocean at your luxury accommodation in Vilanculos.
This Vilanculos family friendly accommodation welcomes you and your family to an unforgettable stay at the Villa Santorini in the heart of Mozambique. At the villa you will have access to an endless number of water activities and enjoy savor Mediterranean delicacies.